That's right....they have lead us to....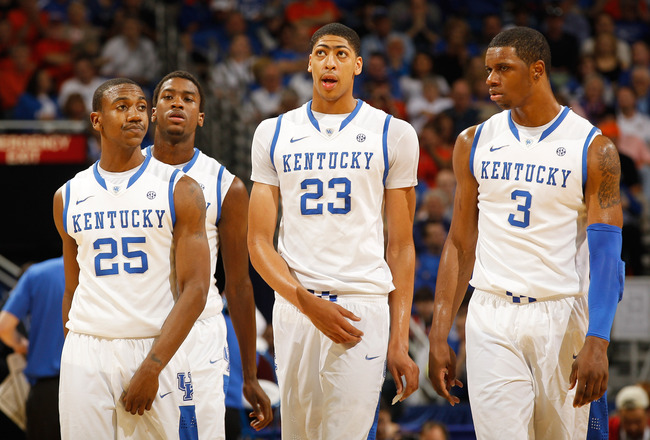 N'awlins Baby!
And it's freakin awesome here in Lexington!
We are back in the final four for the 2nd year in a row.
KR and I went to church sporting our Blue on Sunday and afterwards met up with some of our favorites to cheer on our Cats!
At Harry's of course - our favorite patio in Lexington.
Me and the fabulous Megan.
Megan is my other MOH.
She has already proved to be a lifesaver :-)
I love Megs and her hubby to death.
For those of you who don't know, Meg's husband and I grew up together. We go waaaaaay back.
KR and I enjoy their company so much.
Our dear friend Ron headed to Harry's early to get us a table
Seriously, finding a table at at patio in Lexington is pretty darn difficult when then Cats are playing.
The atmosphere is awesome!
People cheer watching the TV screens as they would at an actual game.
You can guarantee they are plenty of C-A-T-S CATS CATS CATS chants on commercial breaks.
Ron is one of Kev's groomsmen...just btw.
Kev's eyes get a little sleepy when he sippy sips. Don't know what I am gonna do with him for engagement photos because I know that man is gonna want to have a drink before.
Love my hubby to be and we love our KY Wildcats!
Kev was being a party pooper and wouldn't do goggle eyes with me.
Thankfully Meg gave him a helping hand.
So the bluegrass is all up in arms because we play the University of Louisville on Saturday. One, if not, the biggest rivals of all.
They are literally talking that this is Coach Cal's biggest game to date in his career.
Including the NBA!
Don't believe me...just listen to ESPN for 10 minutes.
It's total chaos in Kentucky regarding this final four business.
I am already so nervous about Saturday....eeeeeek!!!
But this gal does have 3 out of the 4 final four teams picked correctly in our lil family bracket competition.
Dad and Kev laughed at my picks, but this girl got them right.
And Duh...I would never put Louisville in the final four (or Duke either for that matter).
Not this true blue fan!
Now Y'all better be cheering on the Cats Saturday with the rest of us here in the big blue nation!
GO BIG BLUE!!!!